Imagine Dragons burst onto the mainstream scene in 2012 with their smash hit "Radioactive" and other big singles like "It's Time," "Demons," and "On Top of the World." Since then, the alt-pop band has consistently been releasing records and scoring more chart-toppers, garnering billions of streams and sales with tunes such as "Believer," "Natural," and "Whatever It Takes." Underneath all these platinum-earning successes, Imagine Dragons has a plethora of pieces in their discography that unfortunately go overlooked. Today we'll be covering our top 10 most underrated songs by Imagine Dragons, including 10 honorable mentions, spanning the entirety of their career. (If you know me, you know that I haven't been the biggest fan of the band in recent years, but I certainly enjoyed their debut album and earlier material, so this list might be a bit biased, haha.)
Stick around for 10 honorable mentions at the end!
10. "Tokyo" from It's Time – EP  (2011)
Before Imagine Dragons signed to a record label, they self-released a few EPs with some songs that never quite made it on their debut album. "Tokyo" happened to fall into this category, and thus it went largely unrecognized by the band's wider audience. But though it was never placed on an LP, "Tokyo" is still a fun little tune; it's got a catchy chorus, a fun, danceable beat, and eclectic guitar refrains. "Tokyo" is bound to get stuck in your head, and it's certainly an underrated track in the band's catalog.
9. "Destination" from iTunes Session  (2013)
"Destination" is a tune that was released independently by the band, but was only officially released on their iTunes Session EP—no studio recording, just a live acoustic performance. The studio version of this song is fantastic and many fans hoped it would be included on the band's debut record, but it never was. The fans were blessed with the acoustic version, however, which is just as good as the studio version in my opinion. The down-to-earth, stripped-back attitude really facilitates the sincere lyricism, and the lovely, raw vocal harmonies give the track a campfire sort of vibe. Since it was only officially released on this EP, "Destination" did not receive enough attention in my book.
8. "I Don't Know Why" from Evolve  (2017)
I'm just going to come out and say it: I genuinely believe "I Don't Know Why" heavily influenced 5 Seconds of Summer in the making of their hit single "Youngblood." The hazy ambience, plucky guitar melodies, pounding bass lines, bombastic percussion, and sweeping synthesizers—it's hard to not agree that the two songs are at least very similar in structure and instrumentation. Unfortunately, "I Don't Know Why" didn't climb the charts like "Youngblood" did, and I really don't know why because it's probably the best tune on Evolve. Before you take to the comments with your torches and pitchforks, keep in mind that 5SOS is my favorite band and I don't blame them for taking inspiration from this song.
7. "Only" from Origins  (2018)
Origins was released practically out of nowhere, just a little over a year after Evolve. The band pushed the record by labeling it a "sister album" to Evolve, which makes sense considering their musical similarities, and I can tell that Imagine Dragons probably wanted to milk their 15 minutes of success a little longer. While Origins was indeed a step up from Evolve, it was still relatively underwhelming, but "Only" was definitely a track that stood out to me. The tinny synths are a bit annoying without the proper headphones/speakers, but the vocal melody of the chorus is catchy and memorable, and the interesting percussion timbres give the song some oomph.
6. "Amsterdam" from Night Visions  (2012)
Look, I know what you're thinking. "This song isn't underrated because it was released as a promotional single for Night Visions!!" Okay, yeah, but here's my reasoning for including it on this list. "Amsterdam" was initially released on the It's Time EP in 2011 and luckily made the cut for the band's debut. It's introspective and emotional, filled with apologies and impassioned vocal delivery, as well as some dreamy guitars, backing vocals, and a boisterous "breakdown" of sorts in the bridge. Personally, I think "Amsterdam" should've been a bigger hit; it's quite possibly my favorite tune on Night Visions and has definitely held up over the years. It eclipses the band's more grandiose anthems like "Radioactive" or "On Top of the World" in terms of lyrical and musical quality, but since it wasn't as easily marketable for radio and commercials, it didn't receive its due spotlight.
5. "I Was Me"  (2015)
"I Was Me" was unleashed as a one-off single for the One4 project with all proceeds going to the UN Refugee Agency to support fleeing refugees. The sparse instrumentation coupled with Dan Reynolds' exposed vocals and emotive lyrics gives this tune a tinge of rawness and sincerity, detailing the struggles of losing your sense of self. However, despite its admirable cause and reflective songwriting, this tender tune is one of the more overlooked singles in the band's discography.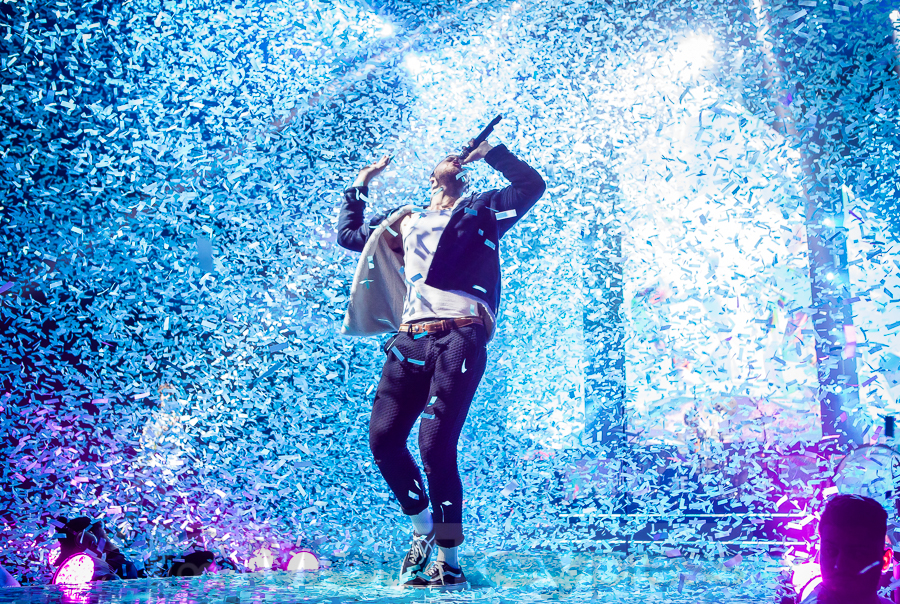 4. "The River" from It's Time – EP  (2011)
"The River" was first released on the It's Time EP in 2011 and then re-released on The Archive EP in 2013… and then re-released again as a bonus track on a reissue of Night Visions. Yet after all these releases, "The River" still hasn't gained its due recognition. The glistening guitars, misty cymbals, and whimsical vocals coat this track in a daydreamy feel. The lyrics offer a sense of yearning and escapism, and the layered vocal lines in the final chorus complete the song with a dazed feeling. "The River" is one of my personal favorites from Imagine Dragons, definitely deserving of more popularity.
3. "Leave Me" from It's Time – EP  (2011)
Despite the rather questionable line "You've got to get a gun to make a woman run," "Leave Me" is a stellar guitar-driven rock tune found on the It's Time EP. The raucous distortion and granular vocal delivery make for a pulse-racing tune that is pure evidence of Imagine Dragons' roots in the indie rock genre. It's a shame this song flew under the radar, I would love to hear more like this from the band.
2. "Selene" from Hell and Silence – EP  (2010)
Like "The River," "Selene" was released on one of the band's earlier EPs, then released on The Archive EP, and finally released on a reissue of Night Visions. "Selene" first made its appearance on the Hell and Silence EP, published in 2010, and it now holds its place as a bonus track on Imagine Dragons' debut, so it did garner some publicity. However, in my opinion, it warrants more. "Selene" is another passionate indie rock track with ardent vocals, fervent lyricism, rugged guitar melodies, and soaring synths; something about it conveys such emotion and feeling, you almost feel as though you're intertwined within the track. It's compelling and immersive and yet sorely underrated.
1. "Emma" from Hell and Silence – EP  (2010)
Finally, at our top spot is "Emma" taken from the Hell and Silence EP. Other than the fact that both of their titles are the names of women, "Emma" and "Selene" are fairly similar tunes: indie rock with some electronic flair thrown into the mix and poignant lyrics that are destined to suck you in. "Emma" is a scorching slow burn, and the blistering vocal performances in the bridge are suddenly contrasted when the band lightly glides right back into the dreamy chorus. The sense of longing in the lyrics is bolstered by the prolonged synth melody and enchanted guitars, a delectable composition that will have you hitting replay over and over. The simplicity of the lyrics offers even more contrast when paired with Dan Reynolds' at times soft, at times intense choral delivery. Unfortunately, "Emma" was only featured on Hell and Silence (giving the EP its title, by the way) and never amassed its due attention. Nevertheless, I'll keep spinning it and vouching for it until my ears get worn out.
Well, there you have it, the most underrated songs by Imagine Dragons! Tweet at us or let us know in the comments below what songs you think are overlooked!
---
Honorable Mentions: