While 2018 offered up a multitude of mediocre and disappointing albums, a few gems shone through the rough. Here are our best albums of 2018!
Honorable Mentions
twenty one pilots – Trench
Snail Mail – Lush
The Dangerous Summer – The Dangerous Summer
Boston Manor – Welcome to the Neighbourhood
With Confidence – Love & Loathing
Now, Now – Saved
The Story So Far – Proper Dose
As It Is – The Great Depression
Mayday Parade – Sunnyland
Trophy Eyes – The American Dream
Let's get into it…
8. Ryan Beatty – Boy in Jeans
Imagine if Lorde's Pure Heroine was written instead by a gay boy who is slightly horny and possibly high. Yeah, that would be Ryan Beatty's debut record Boy in Jeans. Mixing carefree pop with soulful R&B, Ryan Beatty crafts an album that speaks volumes of youth, heartbreak, love, and just having some fun. Standout tracks include "Powerslide," "Haircut," "Speed," and "Flash." Boy in Jeans will capture listeners of Lorde, Daniel Caesar, and Conan Gray. Click here to listen.
7. Waterparks – Entertainment
Waterparks' unique blend of pop punk and electronic power pop is expanded upon and further refined on their sophomore effort Entertainment. Entertainment is undoubtedly entertaining between its anthemic choruses, syrupy synth melodies, and crunchy guitar riffs. Standout tracks include "Blonde," "Not Warriors," "We Need to Talk," and "Rare." Entertainment is bound to please followers of As It Is, Against the Current, and PVRIS. Click here to listen.
6. Florence + the Machine – High As Hope
Florence Welch provides her most personal and vulnerable material to date on Florence + the Machine's fourth studio album High As Hope. High As Hope is outlined by organic instrumentation, luscious background vocals, and the powerhouse delivery of Welch, but the most compelling aspect of this release is her raw, emotional exposition. Standout tracks include "Hunger," "Sky Full of Song," "Patricia," and "Big God." High As Hope is sure to attract listeners of Alice Merton, London Grammar, and Lily Allen. Click here to listen.
5. Fickle Friends – You Are Someone Else
The colorful, glistening indie pop rock of Fickle Friends' You Are Someone Else is entrancing and consistently replayable. The band's debut record is defined by smooth electropop and scintillating guitar melodies, melding contemporary sounds with a throwback attitude. And gosh, the bass grooves will get stuck in your head for days! Standout tracks include "Glue," "Brooklyn," "Say No More," and "Paris." You Are Someone Else will appeal to fans of The Aces, Paramore's After Laughter, and The 1975's I like it when you sleep. Click here to listen.
4. Charlie Puth – Voicenotes
Charlie Puth has always displayed an element of retrospective influences in his sound, but Voicenotes is a drastic change from his previous outing. Trading doo-wop harmonies and antiquated piano ballads for uptempo '80s pop rock jams and dark R&B moments, Voicenotes is a multidimensional pop record with plenty to offer to diverse audiences. Standout tracks include "Empty Cups," "Somebody Told Me," "BOY," and "The Way I Am." Voicenotes will capture listeners of New Edition, Breakbot, and ZAYN. Click here to listen.
3. The Aces – When My Heart Felt Volcanic
The vibrant, shimmery indie pop rock of The Aces' When My Heart Felt Volcanic is captivating and undeniably fun. This debut full-length is characterized by '80s-influenced guitar timbre and catchy songwriting, blending the ever-present throwback elements with fresh, modern-day production. Standout tracks include "Just Like That," "Strong Enough," "Last One," and "Lovin' Is Bible." When My Heart Felt Volcanic will appeal to fans of Paramore's After Laughter, Fickle Friends, and Scavenger Hunt. Click here to listen.
2. LANY – Malibu Nights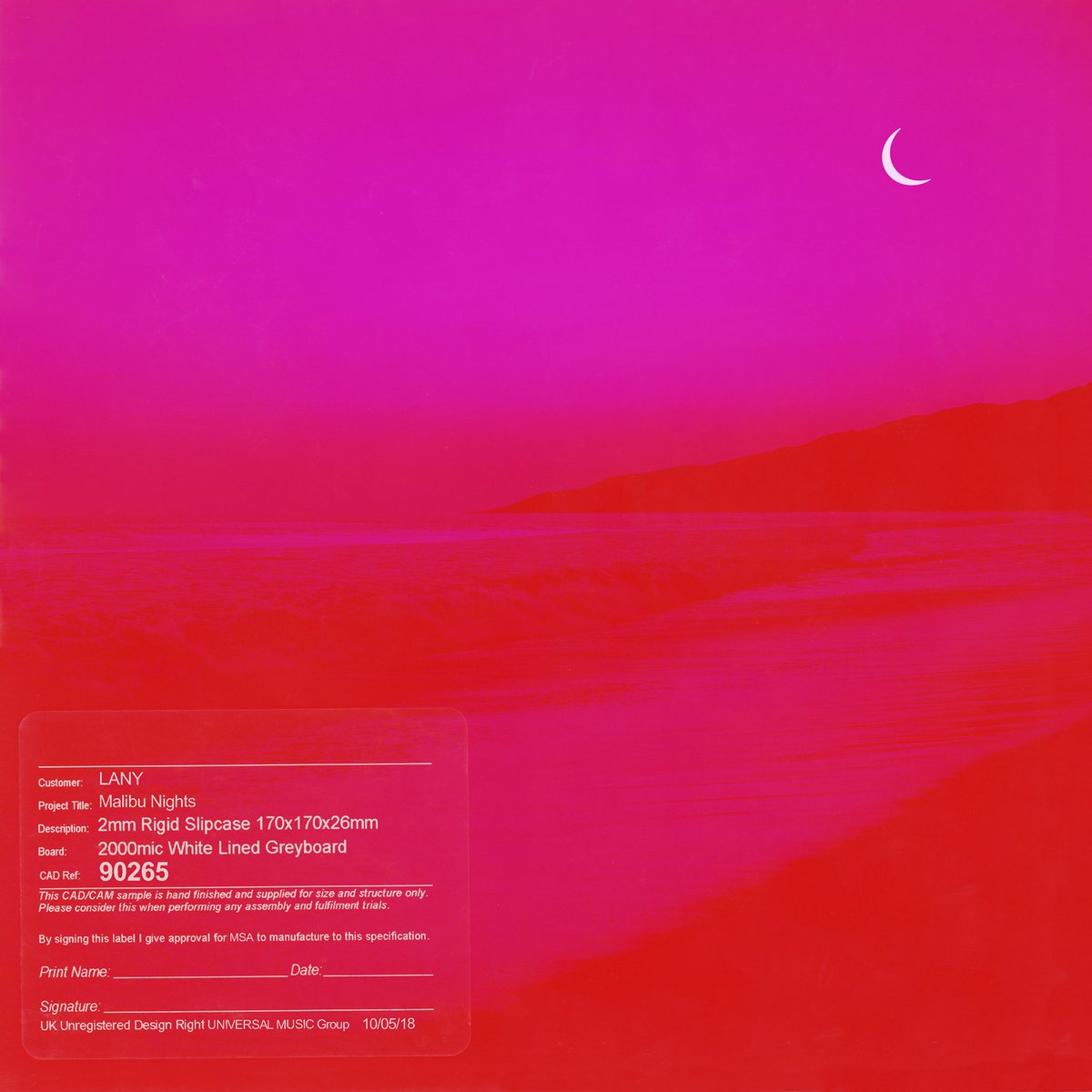 LANY's sophomore record Malibu Nights arrives just one year after their self-titled debut but is decisively more improved. Trimming down the album to just 9 tracks, the album feels more cohesive and refined compared to its 16-track predecessor. Malibu Nights shares a tale of heartbreak and confusion, and while not a single song on this record is totally cheerful, you will be shouting along to the upbeat choruses and crying your eyes out to the gut-wrenching piano ballads after just a couple spins. Standout tracks include "Thick and Thin," "Taking Me Back," "Let Me Know," and "Malibu Nights." Malibu Nights is bound to interest followers of joan, MILKK, and COIN. Click here to listen.
1. 5 Seconds of Summer – Youngblood
After nearly three years, 5SOS recrudesces to deliver their most experimental and mature record yet. Youngblood is expertly characterized by moody guitar melodies, pensive atmosphere, and stellar vocal performances contributed by all members of the band. Catchy, instantly replayable, and downright interesting, Youngblood is our album of the year. Standout tracks include "Babylon," "Better Man," "Midnight," "Talk Fast," and "Moving Along," but every song is amazing! Youngblood will appeal to listeners of All Time Low, The Vamps, Fall Out Boy, and Imagine Dragons. Click here to listen. I mean, was this a surprise to anyone? I literally got a custom necklace made over this album.
---
Let us know your favorite albums of the year in the comments below!