If you'd like to watch/listen to this review, check out the YouTube video here!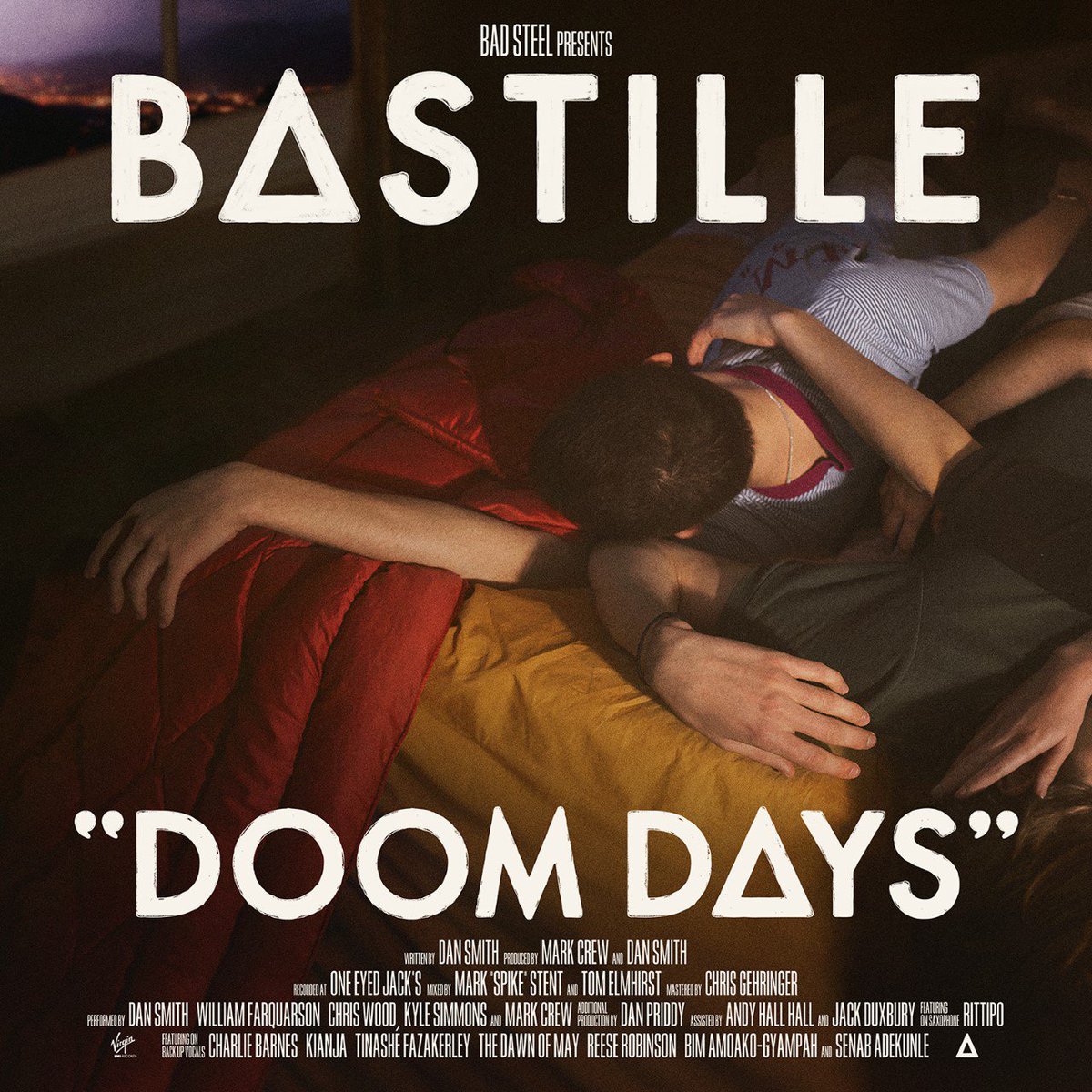 Bastille broke into the mainstream with their 2013 hit "Pompeii" from the band's debut LP Bad Blood, a record that offered indie pop with an alternative tinge. The UK band followed it up with Wild World, their sophomore effort released in 2016. There was more distortion, more social commentary, and, well, more indie pop rock… Another three years passed and Bastille returned with Doom Days, marketed as a concept album about a rowdy party during the apocalypse, filled with emotional ups and downs.
Personally, Bastille never really caught my eye. I recall hearing "Pompeii" on pop radio back in the day, but I barely even noticed when they dropped Wild World in 2016. I named that album one of the most overrated albums of 2016 in my year-end list and wrote off the band as nothing more than a mainstream "alternative" act plying for a pop-friendly sound.
The band's debut Bad Blood felt both overpolished and yet underproduced sonically. The songs were either too gargantuan in scale or uninteresting snoozefests, either too washed out in the mixing or so barebones that they felt like demo tracks. Fans hyped the lyrics up as being so deep and soulful, but I found it to be somewhat overly pretentious and basic.
I can't blame Bastille for their approach to this record though. In 2012 and 2013, a number of alternative-leaning bands were crossing over in pop audiences with this organic, authentic style, both instrumentally and lyrically, and bombastic, grandiose anthems. Take a look at Imagine Dragons with big hits like "It's Time" or "Demons," Of Monsters and Men's "Little Talks" and "Mountain Sound," Fun.'s "Some Nights" or "We Are Young," The Lumineers' "Ho Hey," Passion Pit's "Take a Walk," or… well, you get the point. The most similar contender for comparison to Bad Blood would be Imagine Dragons' Night Visions; the folky attitude, larger-than-life choruses, classic instrumentation with some electronic flair mixed in, the albums are practically long-lost brothers. So sure, I can see why Bastille fit into this mold, but man, was it trite as hell.
Wild World felt like we were taking one step forward and two steps back. Yes, the ripping guitars on numerous cuts were strongly welcomed, the sound suited the band fairly well. But the production was ear-grating with odd background noises or snare timbres or backing vocals. The choruses came across as lazily written since most of them were just one or two lines repeated over and over again, and the flimsy sociopolitical commentary was rather bland and surface-level. And to top it all off, the majority of the songs all sounded the same! I couldn't tell the first, like, 16 tracks apart. Wait, shit, that's the whole LP. The album was forgettable after about one listen, which reminds me of another album with a similar title… *cough* Wilder Mind by Mumford & Sons. Oh, hey, another band that tried to make a "rock" record that turned out to be boring and forgettable! Really, it says something when the only tracks I found myself genuinely enjoying on Wild World happened to be the bonus tracks.
Now I will say this: Bad Blood and Wild World are not bad albums. I do believe they are a bit overrated, but they are not completely awful outings. I might not have been able to get behind the hype but to each their own. So you can bet I was surprised after my first listen of Doom Days. I… I actually… enjoyed it? Me? Being fond of a Bastille album? Yes, it's true. I like Doom Days. It took a minute to grow on me, but I do indeed like it. Maybe not love, but I like it. Maybe it's because I had low expectations going in, but I like it. I guess now we should actually talk about this latest record rather than all the other albums in the band's catalog.
When I saw that Bastille was gearing up for a new full-length by releasing the lead single "Quarter Past Midnight," I remember not being impressed. I didn't think much of it, and I surely was not invested in their collaboration with M********o on "Happier." But after Doom Days was officially released, I decided to give it a chance, maybe just for a good laugh. I was lukewarm after the first spin, but with each listen I grew more enamored with the record. At first I didn't buy into the idea of Doom Days being a concept album; it didn't feel like there was much of a narrative, just some recurring themes and motifs intertwined throughout the tracklisting. Now I see the vision, and though I still think it's a stretch to call it a proper concept album, I can see why the band believes it.
Should we get the negatives out of the way first so we can end this review on a happy note, just like this album? While Bastille has dialed back on the trying-too-hard-to-be-deep writing, there are still some moments throughout the record where the band is attempting to sell the idea at hand as being so big and emotional when it's really not that deep. Ooh, apocalypse! Ahh, relationships! Err, something like that…
Also, the slower songs on Doom Days all crescendo into these big endings, and while it's nice that we get to catch our breath before being catapulted into another colossal chorus, I feel like the roster just needed one song, just one slow, quiet song, to really give the listening experience a bit of contrast. "Those Nights" is a contemplative glance at how we're all just craving some love during these difficult times. The power ballad piano chords are nicely executed, but the song ends with this left-field dubstep-esque breakdown? It feels somewhat out of place.
Speaking of places, "Another Place" is a rather EDM-inspired tune, along with "Million Pieces." Perhaps Bastille was trying to appeal to the listeners they gained from "Happier" or something. These tracks are enjoyable enough and do add some different flavors to the record, but some strange production choices pop up here and there, like the repetitive whooping in the background of the "drop" on "Million Pieces," or the over-sanitized vocals on "Another Place," which also has some weird background noises. "Joy," one of the best numbers on the album, is plagued by this unnerving squeaky sound that rears its head on the upbeats during the chorus. And a handful of songs feature intriguing guitar riffs that are unfortunately too quiet or get lost under the percussion or walls of sound. I typically have a few gripes when alternative bands incorporate more synthesized elements into their style, but I don't necessarily mind Bastille shooting for a more dance-influenced, electropop sound. They've always had it buried in their DNA since Bad Blood, so I believe this is a natural progression for them as artists. I do wish, however, that this album featured some more interesting or prominent bass grooves.
Lyrically, there are a few odd pop culture references thrown in, sometimes ones that kind of ruin the moment. The title track "Doom Days" starts off with the line "There must be something in the Kool-Aid" and later references Peter Pan in the most cringey way possible. Peter Pan is slightly pointed to again on "The Waves" when Dan Smith sings "We never, never give up on the lost boy life," which is thankfully a more tolerable and broad interpolation. Stanley Kubrick is mentioned on the second tune "Bad Decisions," which is probably just flying over my head because I can't quite figure out why it exists. (Help?) The title track also seems to cram way too much in too little time; it's the shortest track on the album and yet seems to pile on the most societal commentary over a grimace-worthy trap beat.
Overall, these drawbacks are for the most part minor nitpicks that don't entirely ruin the album for me. They don't detract from the listening experience too heavily and I can let most of them slide because, well, I admittedly still don't have incredibly high expectations for Bastille.
On the positive side, there are a lot of things I admire about Doom Days. Dan Smith has greatly improved his vocals (seriously, go listen to Bad Blood and compare it to Doom Days), and his range is impressively expansive, which he flaunts on cuts like "Joy" and "Bad Decisions." The record only consists of 11 standard tracks and two bonus tracks, vastly shortened from the 19 total tracks that comprised Wild World. This shorter run-time allows less room for mistakes or for songs to sound too samey, and the album doesn't feel like it's dragging on for too long.
I appreciate the cohesion between tracks, which I guess is relatively required for a concept album. But the nuances are what tie things together. The background vocals near the end of "4AM" sing the lyrics of the bridge from the opening track ("I can't remember…"), as well as the background vocals earlier in the song ("Might be a walking disaster") that reference the closing track. "Those Nights" ends with a hazy "From my brain," which leads into "Joy" where the lyrics are the bridge's refrain.
Of course, the idea of living in "the doom days" is strung throughout the LP. The band claims they wanted this record to emit a sense of escapism, powering through dark times by partying your ass off and winding up in some interesting interpersonal situations. The title track delivers some perspective on how people have become so dependent on their phones, how we can't tell what is real or fake anymore, how the planet is being torn to pieces and yet people deny it, so forth and so on. So much is mashed into the shortest tune on the record, which I feel doesn't totally allow the notions to fully breathe or feel fleshed out. Nonetheless, the perception that we're all so addicted to phone screens is ironically contradicted, or perhaps driven home, on the album's closer "Joy" where the narrator of the track solely finds fulfillment from the phone call of a lover. This acceptance of how consumed in technology we have become is rather tastefully and subtly accomplished through this juxtaposition.
The fervent "Million Pieces" expresses how heartbreaking the world has become. "The king's a clown," "we're too far gone," "no one is loving," etc. The second verse touches upon that idea of escapism again, saying "Just drink, fuck, dance right through disaster," which could probably double as the tagline for Doom Days as a whole. While the lyrics are moderately vague, "Million Pieces" still effectively communicates the despair tormenting our current social climate, wrapping it up in a danceable, poppy beat.
Instrumentally, Doom Days features a lot of stellar piano melodies, most noticeable on tracks like "Quarter Past Midnight," "Divide," and "Nocturnal Creatures." There are also a handful of string sections speckled throughout the record. This authentic instrumentation mixed in with the electronic aspects creates a modern yet original sound, which is executed a hundred times better on Doom Days than on its predecessor.
Gospel choir chorales are also sprinkled into the mix, which truly finishes the album off expertly on "Joy." Bastille has always incorporated vocal harmonies into their music, whether in the front of the mix or pushed to the background, but here on Doom Days, the gospel influence is turned up to 11. On "Joy" specifically, the choral refrains wrap a holy, sunshiney, and, well, joyous sentiment around the tune. It feels as though "Joy" would have been incomplete without the choir. "The Waves" is also nicely complemented by the choral voices that add a sense of grandeur and enthusiasm to the track.
All in all, my reasons for enjoying Doom Days are rather personal. There is nothing objectively good or bad about this album, as to be expected with any piece of art. It's subjective. I would sum up Doom Days as mediocre indie pop at its best, but for some reason I still like it. The compositions presented on this record are, for the most part, well done. It's an entertaining pop album that's easy to throw on and listen to. You could possibly get something deep or emotive out of it, but Bastille is not trying too hard to shove anything down your throat or craft some groundbreaking philosophical statement. The sound of the record will obviously not be everyone's cup of tea, but if you like pop, electropop, indie pop, or lighter alternative music, this album might suit your taste. I'm sure you could toss it into the category of "millennial pop" given its lyrical topics and musical timbre, but that's all it's aiming to be. Sometimes less is more, and Bastille proves that on Doom Days with the shorter tracklisting, tighter production, and ordinary but still affective lyricism.
Overall, I think Doom Days is Bastille's best album to date, and while it is still flawed and at times uninteresting, it's serviceable enough. I'm rating it a 7/10 …for now. That's subject to change as the year goes on, but for the time being, I'll be dancing my way through the doom days.
Let me know what you think of Doom Days down in the comments below!