Ed Sheeran, the musical dynamo who stands as the mainstream poster child for the singer/songwriter "white guy with an acoustic guitar" genre, has released his third major label full-length album, ÷. Ed is acclaimed for his diversified styles, from upbeat hip-hop to syrupy sweet love ballads to campfire singalongs. His earnest lyricism and authentic intimacy is one of the many reasons to love this amiable redhead.
So what does this latest long-player have to offer?
÷ is a typical Ed Sheeran album, a mixture of those various approaches and then some. But unfortunately, ÷ plays it extremely safe in personality, although he does tiptoe outside of his comfort zone on a few moments. This is his most noticeably commercial record to date, which thus sacrifices risk-taking and is ultimately underwhelming. After 2014's phenomenal ×, touring the planet, and taking a year off social media, we set the bar high for Ed. We expected something more personal, something introspective and astonishing, but ÷ really does not meet those standards. It's the same-old-same-old but yet not as stunning and gripping as his earlier material. Of course, ÷ is alright; it's not a terrible release by any means, but it certainly is disappointing in multiple categories.
First, the lyrics. At times, the libretto of this work can be profound and ardent, but most cuts either display the same tired-out romantic clichés from his prior albums or empty, dull subjects that simply don't attest to his growth as a person since the last time we heard from him on ×. "Galway Girl" exhibits a night out at the pub, kissing an Irish girl and eating Doritos, and while this is down-to-earth and practical, is this really the height of Ed's songwriting? Or "New Man" where Ed gives details of a stereotypical gym jock, someone we could easily picture and possibly put a name to of a similar person we know, and while this song is descriptive, is it really anything more than just scratching the surface? Or similarly, "Shape of You," the most sexually charged yet undoubtedly catchiest song in the lineup. Or on tracks like "Happier" where Ed expresses some maturity by accepting an ex lover has moved on with someone new, but yet he ruins it all by stating at the end of the song he'll still "be waiting here for [them]." The hackneyed instrumentation also doesn't cater to his rougher operatic delivery to any considerable degree in order to pack the real emotional punch. "What Do I Know?" is littered in naiveté, and the octave-stacked vocal layering and humming is crudely annoying. We do manage to see some progression and communion on pieces like "Castle on the Hill" which describes Ed's childhood and struggles of growing up and apart from old friends. The bonus track "Save Myself" is probably the most intimate, reflective tune on the album, which begs the question as to why it was merely tacked on as a bonus track. "Supermarket Flowers" is also one of the most personal and genuine songs where Ed recounts true events that occurred in his life.
EDIT: Ed Sheeran said in an interview with Zane Lowe that the reason why "Save Myself" was not included as an a-side tune was because the album had "too many slow songs." Thus, the label requested that he swap "New Man" and "Save Myself" in the initial listing, making "New Man" a standard track and "Save Myself" a bonus track. This is understandable, and one must also consider that alongside the poignant ballads, Ed is known for his hip-hop-directed cuts, which ÷ lacked in some ways. Ed also mentioned that due to the rise of online music streaming services, bonus tracks still garner their deserved attention to an extent.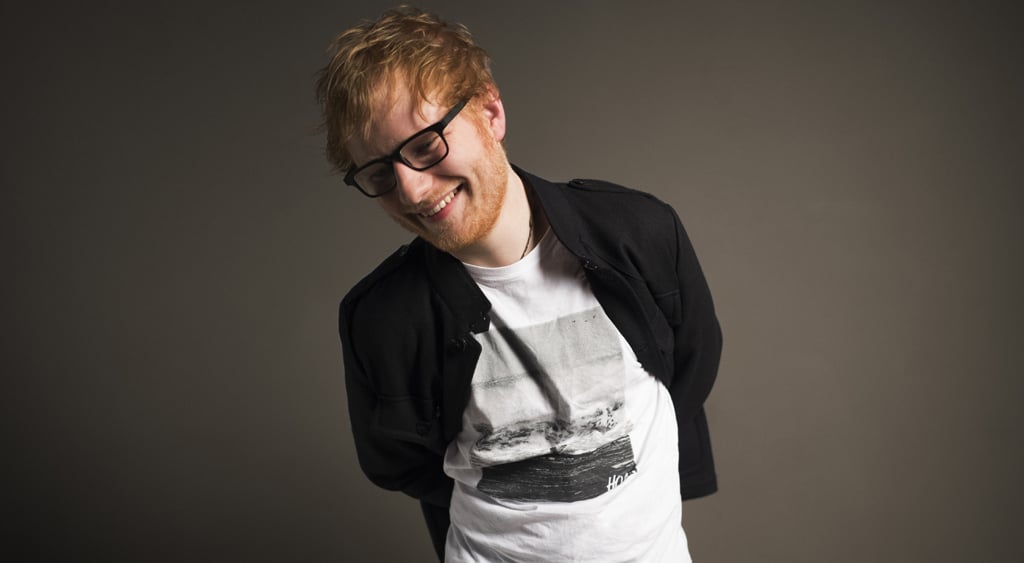 The musical assortment of this release is apparent when solely discussing the album, but compared to Ed's past catalog, it is for the most part stale and trite. Hip-hop cuts like "New Man" and "Eraser" offer Ed's clunky rap sequences and poor production quality. Sappy amorous ballads like "Perfect" and "Hearts Don't Break Around Here" feel disingenuous and unrealistic. (Of course, this is assuredly subjective; some fans adore his hip-hop moments and/or his mushy romantic articles, but I personally have never found them interesting.) (Also, how did Ed think it would be flattering to compare his lover to a "pothole?" Yuck.) The overt love serenades, swelling with passion, virtually come across as just an attempt to pull at your heartstrings, which seems exploitative to an extent. (And trying to mimic the success of "Thinking Out Loud.") The only tolerable romantic nocturne is "How Would You Feel (Paean)," which is embellished by the delectable piano accompaniment.
EDIT: Ed Sheeran said in an interview with Zane Lowe that his main motivation for writing "Perfect" was to prove that he could write fabulous love songs on his own and outdo "Thinking Out Loud," which he wrote with Amy Wadge. This bolsters my feelings of insincerity in Ed's latest songwriting.
However, pieces like "Castle on the Hill" and "Galway Girl" do illustrate some sonic variation not typically discovered on his previous albums. (With the exception of the stellar "English Rose" from ×, which is quite overlooked if you ask me.) "Castle on the Hill" follows in the bombastic vein of a Mumford & Sons-esque stadium epic, something new for Ed. "Galway Girl" and "Nancy Mulligan" find Ed exploring his near Celtic background and fondness for Ireland with an Irish band, something that truly stands out on this full-length. Bonus tracks like "Barcelona" and "Bibia Be Ye Ye" show him placing a toe outside his comfort zone with a more Latin leaning vibe, and he even roughly speaks Spanish on the former and Twi on the latter! Again, it's a shame these tunes were attached as bonus material because it is the only minor evidence and incorporation of Ed's travels across the globe. The impassioned love divertissements do offer some symphonic diversity with their orchestral inflections and female backing vocals, like on the soulful "Dive," and Ed is cementing a somewhat unique sound with these timbres.
The easy accessibility and listenability of ÷ causes it to suffer in some ways. Ed's pop sensibility seemingly dumbs down his trademark emotional contemplation and self-examination to appeal to a larger audience. The lyrics of this album plainly don't punch the listener in the gut like his preceding projects did. He immolates auricular risk-taking over his traditional familiarity and generic acoustic timbre which has grown threadbare throughout his career. ÷ is not entirely atrocious or abominable by any degree, but it does not scrape the expectations we had set for him after his antecedent release, hiatus, and worldwide excursions. ÷ warrants a solid 5/10 for its lack of progression and variety, and I'll personally only be revisiting a small handful of songs. (As opposed to my constant return to his full previous records!)
What are your thoughts on ÷? Let us know in the comments below!
Best songs: "Castle on the Hill," "Save Myself," "Dive," "Supermarket Flowers," "How Would You Feel (Paean)"
Worst songs: "Happier," "New Man," "Perfect," "Hearts Don't Break Around Here"