The not-so-teenage heartthrobs of 5 Seconds of Summer are back at it again with their sophomore full-length release, Sounds Good, Feels Good. 2014 was a fantastic year for the boys from Australia, and 2015 did have some high points as well. But did their latest album live up to expectations and popular success of their self-titled debut?
Sounds Good, Feels Good is a more mature portrayal of 5SOS, even if releasing just one year after their previous album. Their long-playing debut was published during a transitional period of the young men's lives where they were more than likely already beginning to grow out of those sentiments of "teenage memories" ("Kiss Me, Kiss Me") and their mothers still driving them to school ("18"). Some would say they grew up too fast, but it was going to happen eventually. SGFG touches on deeper topics than just late nights listening to Green Day ("Long Way Home") and being stuck in the friend zone ("Heartbreak Girl").
The album is practically divided into three sections according to lyrical content and themes. (Deluxe Edition)
Tracks 1-4 Socioeconomic standards, financial struggles, and fitting in
Tracks 5-12 Heartbreak, broken relationships, and "starting again"
Tracks 13-17 Wanting to be in a better place, nostalgic reminiscence
The first four tracks are similar in the sense that they all discuss societal principles and nonconformity. "Money,"  the opener of the album, is a bridge to help listeners transition from the sound of their prior album to the new, more polished yet grittier sound of SGFG. However, "Money" is low in lyrical depth. It is energetic and fun-filled, but does not have anything terribly memorable or something to connect to. Next, the lead single "She's Kinda Hot" really shows some newfound maturity in both lyrics and musicianship. The structure of the song is not the typical verse-chorus-verse-chorus-bridge-chorus you would have expected to hear. The song features some surprising guitar solos and
 instrumental breaks that can't be described as anything less than killer. The lyrics also prove some maturation, discussing mental health, higher education, and bohemianism. The chorus alone is a misfit's dream anthem, shouting, "They say we're losers and we're alright with that, We are the leaders of the not-coming-back's, But we're alright though," with pop-punk angst and deviant acceptance oozing from each chanting line. With some help from the Madden Brothers, "She's Kinda Hot" is like a more seasoned "Social Casualty" from their original debut, and is definitely a stand-out song. The third track "Hey Everybody!", also with assistance from the Madden Brothers, follows with the same mentality of societal expectations, but this time with a more economic impression, detailing common struggles young people may experience, but delivering the hopeful reminder that one can always turn that around. The track samples the famous guitar riff from Duran Duran's 1982 hit "Hungry Like the Wolf," and executes it quite well, especially with Calum Hood's bass work. The vocals in the verses satisfyingly blend together, from Ashton Irwin's backup harmonies to Michael Clifford's tinge of grunge. The lyrical flow of the verses are also pleasing, and the chorus comes across again as another anthem, exclaiming to the masses, "Hey everybody! We don't have to live this way!" The final track of this section is "Permanent Vacation," which you can already tell by the title what this song is probably about. This song examines the "frustration" and "desperation" of having zero motivation to make anything of one's future in the world of "9 to 5" jobs and "corporations," following again in line with the discordance of societal standards. The lyrics are riddled with words ending in -ation, and while clever, the only pitfall occurs in the bridge when Michael touches on "corporations" and "calculations." This idea of opposing big business certainly begs to be expanded upon more, but in the time frame of a pop-rock jam, a lecture on the unhealthy financial state of most first-world countries was not essential. However, these ideas do show some more wisdom and advancement for the boys. The track musically showcases their ability to create an ebullient and fervent piece while still keeping the lyrics applicable and relatable.
The second section of SGFG moves into some darker themes, such as broken relationships and attempting to piece things back together. The fifth track of the album, "Jet Black Heart," displays some emo parallels to the mid-2000s, and actually revitalizes those concepts quite adequately. The musical aspect of this track alone proves some further maturation of 5SOS, as well as vocals, especially from Michael who acts as the band's grungiest voice. The song outlines a broken connection, but the bridge swells and solidifies the idea that it can always "start again." This track definitely stands out, and
many listeners will be able to connect to it even years down the road. "Catch Fire," written with Alex Gaskarth of All Time Low, samples, um, lyrics to the United States national anthem? But it blends so well! In fact, the anthem allows the idea of sacrifice and the imagery of catching fire to be embellished. The bouncy beat and distorted guitars enriches the entire listening experience; this track is just a joy to the ears. The lyrics follow suit with the theme of seeking to fix broken relationships, however accepting that maybe things won't work out after all, as in "Maybe I'll change your mind." Keyword: maybe. Overall, "Catch Fire" is a generally solid track. "Safety Pin," the next track on the album, introduces the notion of pinning "broken hearts back together," a depiction of this section's theme as a whole. The lyrics in this piece feel somewhat discombobulated at times, shifting from repairing broken relationships to raising middle fingers at the world for thinking they are "twisted." However, these two mesh together with the idea that the characters of this melodrama are both social outcasts, and this is where the first couple sections of the album meet. A long, drawn-out bridge, echoed again after the final chorus, fuels this song with even more energy and spirit. The eighth piece, "Waste the Night," almost sounds like a Taylor Swift b-side, but with a grungy influence. While the chorus is exceedingly repetitive, it jives well with the sentiment being conveyed and emphasizes the importance the author feels to not letting themselves waste the night. Luke Hemmings's emotional vocals tie these components together as well, especially displayed in the pre-chorus and bridge. The elongated I does seem strange at first, but after the initial few appearances, it does begin to blend well. There's a particular ambience achieved throughout the track, maybe thanks to Ashton's appropriate percussion or the atmospheric production wrapping it all together. It ends with a mellow interlude, which is somewhat haphazardly thrown in to the mix. It concludes "Waste the Night" favorably, but doesn't really complete or introduce any big ideas.
The next track, "Vapor," opens with more atmosphere and repetitive lyrics, but on a smaller scale than its predecessor. This track features a stellar vocal performance from Michael, great mixture of Calum and Luke's voices on the second verse, and Ashton's outstanding drumming does add to the aura. "Vapor" is also characterized by the orchestral strings, increasing the emotional attitude of this composition. On a lyrical level, the speaker asks their counterpart to lie to them just to make things last, detailed by a somewhat oxymoron that concludes the chorus with "Look in your eyes and know just what you meant, So lie to me, just lie to me," and is later mentioned again in the bridge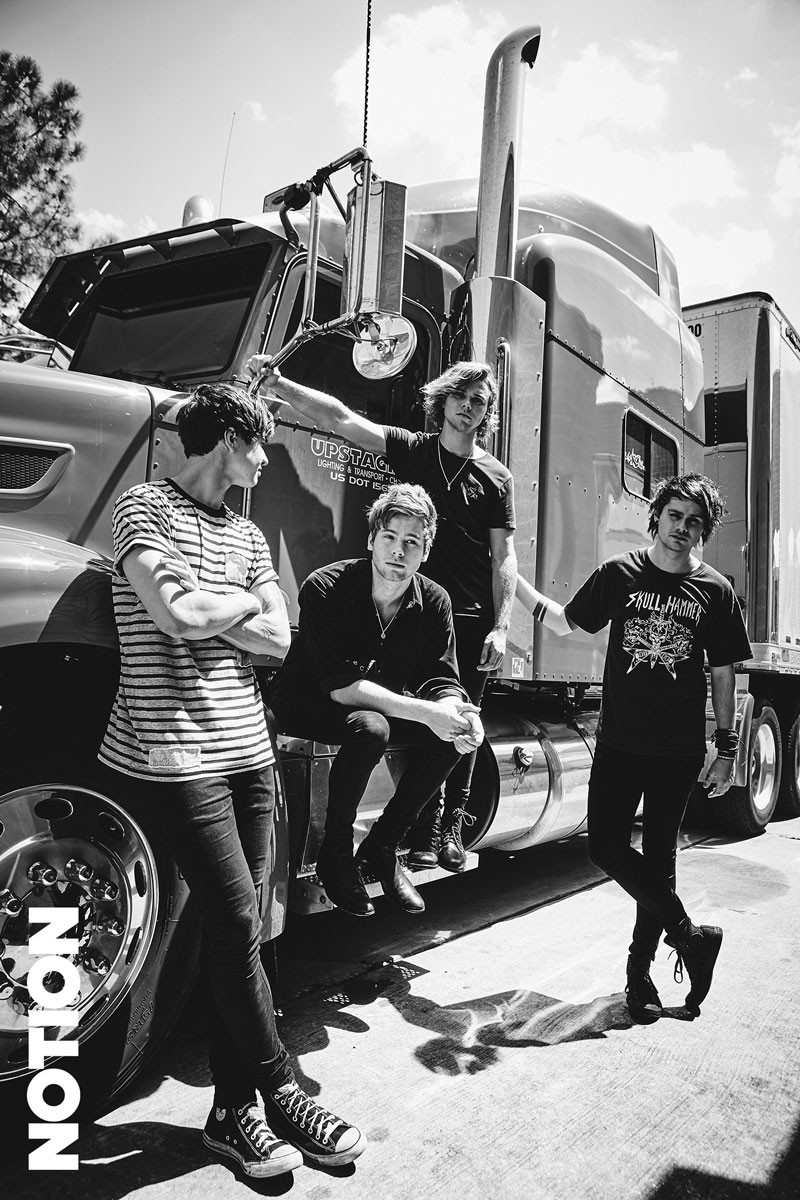 with "You make it sound so sweet, When you lie to me." Interpret this as you may. "Castaway," the eleventh track, is quite powerful, opening with a punching "Oh-oh-oh" hook. The pre-chorus build and then sudden silence except for Luke's voice leads to a vigorous hit to begin the strong chorus, filled with meandering guitar riffs and robust percussion. More impassioned choral exhibitions truly accentuate the emotional toll depicted in this track, describing a "sinking ship" of a relationship and how it will never be saved. This track barely follows in step with the idea of repairing shattered relationships, only enumerated in the single line, "I'm trying to hold on," showing that the speaker is at least making efforts to stop the heartbreak from transpiring. Overall, this track is fiery and energetic, which then takes a turn when the next song, "The Girl Who Cried Wolf," begins. This song might at first sound like a whiny teenage melodrama, but it proves otherwise. From the somber request for eye contact to the heart-pounding bridge, this track is more than just some sappy acoustic ballad. The bridge has been described as Radiohead-esque with exaggeration and profusion, and it crescendos into the final chorus. Ultimately, this tune evokes that same sentiment of recovering damaged relationships by saying, "I'm not leaving," epitomizing the speaker's desire to fix things. The next track, "Broken Home," is probably one of the most personal and relatable on the album. "Broken Home" paints the picture of a rocky relationship between parents, and this is a very realistic problem that many listeners have connected with. In the band, Ashton has most notably connected with this song considering his parents are separated and his father is absent in his life. Luke was hesitant to sing on this track because he wanted it to be a very intimate, personal message and he has never dealt with those complications before. It's surprising that Ashton didn't contribute vocally on this track much at all. However, the vocal performances still deliver and the song is quite the emotional exploration. There is a sense of hopefulness in the musicality of the bridge, which points to the main theme of the section of the album. It is definitely one of the best songs of this release, if not their entire career, and it's a shame it's technically classified as a bonus track.
The final section of SGFG begins with the promotional single "Fly Away." This song is sprightly and just plain enjoyable to listen to. From the "Na na na" hook to the aggressive guitar riffs, this song is an absolute pop-rock jam. It really proves the boys have been on tour, from London to California to New York, recounting the imagery and wistfulness of each location and the oceans in between. This song kicks off the concluding section of the album by introducing the idea of longing to be in a better place, to escape the monotony of everyday life and turmoil. This mentality is expanded upon in the fourteenth track "Invisible." This track takes on a slower pace and creatively opens with what is believed to be the sound of keys ticking on a typewriter. Calum expressively executes the vocals and is assisted by the operatic strings carrying him and the song on. This is one of the
most melancholy tunes on the album, and the narrator questions themselves, saying they feel invisible and how they can't escape the walls they've built around them. This song intertwines with the idea of yearning to be in a more desirable place  through the sense of wanting to escape and leave; "I can't escape, It's too late," and "I was already missing before the night I left." The second verse introduces this section's mood of nostalgia, "Dreaming of the times I know I can't get back," and this mood will be seen again later on. The next track is "Airplanes." "Airplanes," mostly lead by Michael, is an enormous piece, showered with heavy guitar melodies and an awesome solo in the bridge. This displays their incredible musical ability and the astonishing production quality, and their musicianship is also highlighted by the use of 3/4 time. This track also embodies the idea of becoming a better person and leaving behind past problems, like in the lines "I don't ever wanna wait for this, I believe that I was made for this, I won't fade into dark," and "I've got something to prove, nothing to lose." While this track is a masterpiece, it's not something most listeners will find themselves consistently rocking out to on a lyrical level as it is a track you almost have to be in the right mood for. Nonetheless, it is still remarkably solid.
The next track, "San Francisco," takes a turn from those glorious electric guitars and trades them instead for some acoustic assonance. Although acoustic, this song still has some punch with enticing percussion and swelling symphonic strings. Calum does exceedingly well on this track vocally, and Michael shines during the bridge. The boys are assisted by female vocalists Bonnie McKee and Sarah Hudson, which offers a pleasant touch to emphasize the nostalgic anecdote of a past relationship. This song fits into the sentiment of longing to be in a more preferable place, especially one of the past, and recollecting those memories of "summer nights" and smells of perfume. "San Francisco" truly offers some great, descriptive imagery, although lacking in the first half of the bridge where it almost feels like they became a bit slothful or out of ideas when writing the song. The track then closes with another interlude which seems to go nowhere, again not closing out any big statements or announcing new ones. However, a somewhat larger statement is illustrated in the final track "Outer Space/Carry On." "Outer Space" almost feels like an infantile "Bohemian Rhapsody" with its theatrical instrumentation and attitude. While it has charisma, it is still not anything absolutely jaw-dropping. The sudden monumental chorus is, well, grandiose, and accomplished very well. The song ultimately sounds a bit spasmodic, shifting from one style to another while still remaining cinematic, extravagant, and a little pretentious, echoing the aforementioned legendary Queen hit. That's one downfall of "Outer Space," it's trying to be legendary and it just doesn't hit the mark entirely. I will give it to them, it is very marvelous and bombastic, but a little too histrionic. Lyrically, the song does rightfully fall into this section of the album because of its reminiscence of past relationships and bitter nostalgia. The track transitions into the sound of crashing waves, and slowly "Carry On" arises. Though only a minute and a half long, "Carry On" is honestly one of the most solid and introspective tracks on the album. It almost seems reflective of the band's maturation, saying "outlast the ignorance" and "survive the innocence." It is promising to hear that it's "gonna get better," whether 5SOS is referring to the struggles of life or even their musical ability and career. The vocal harmonies are noteworthy and I'd love to hear more tracks similar to this, stripped and raw, with that tired voice of Luke and sparkling ambience. "Carry On" is conclusively the best track to end the album.
Overall, 5 Seconds of Summer proves that their musical career isn't just for radio attention and sugary teenage anthems. Sounds Good, Feels Good manifests their newfound maturity, looking past the simple strife of high school and showcasing real life issues that listeners can connect with for years to come. These songs will stay in the playlists of fans for a long time, and the album is essentially very well-crafted for long-term listening. These boys young men have impressively demonstrated their songwriting and musical talent in their sophomore release, and as a 5SOS fan, I couldn't been any more proud of them. While there are some weak points on this album, it is generally an extraordinary presentation that is fun and also serious, a perfect balance of what 5SOS personifies. 9/10!